Mandy Franca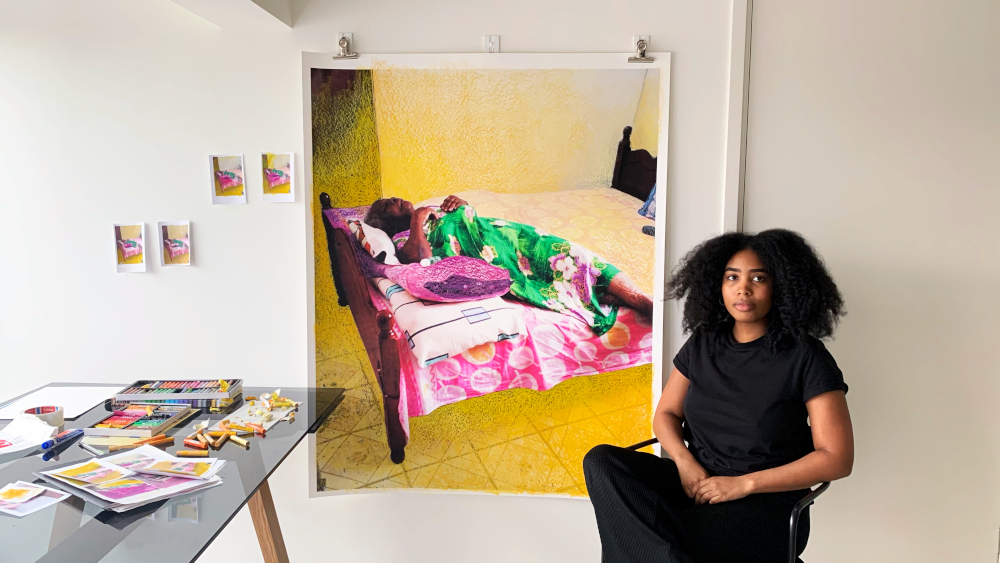 The importance of imagery and its circulation, both in the physical and digital world, seems like it plays an important role in your practice. What led you to this area of focus?
As a child in the 90's my parents bought a desktop computer. Those enormous things that made a lot of noise and were incredibly slow by today's standard. I remember chatting with people for hours and hours everyday on MSN messenger. I'm part of a generation of people who remembers making print screens of images they found online and cutting them out in Paint (because yes that was the way to go back then). Having an online page on platforms pre-MySpace and having to know how to use HTML to choose a font, add gif's etc for your page to look cool. You literally needed to know and understand the computer language to make use of it. Nowadays a lot of websites offer an online visual editor so the user can easily build their websites or social media pages which makes it much more accessible to everyone.
My understanding of the world is formed by growing up in the multicultural environment of Rotterdam. Growing up with people from different cultural and religious backgrounds, and having a multinational identity myself from both the Netherlands and Curaçao, many interpersonal relationships with family members for me (as well as for many of my peers in the neighbourhood) took place over the telephone, the internet or by travelling. My family did not have a computer nor internet back then. The only way to stay in contact with them was through a phone or even writing letters. Sometimes we would receive photographs accompanied by the letters that would get added to the large boxes with family photo's my family would save. This was our own family archive that would get circulated within our family in Rotterdam. I remember visiting call centres in the neighbourhood I lived in with my parents as a child. Looking at the multiple clocks hanging in a horizontal line next to each other on the wall while on the phone with my grandparents. Different time zones; Curaçao, Suriname, Cape Verde, Turkey, Morocco, Pakistan and more, staring back at me, making me aware of the few minutes I had left to talk to my family.
(digital) communication fascinates me; meme's, emoticons, images, videos and more. I've witnessed an evolution of how we navigate, archive and communicate online and offline, from using the keyboard to make emojis and display emotions for example ':)' and now '😊'. Think of your own personal photographs online or offline, voice notes, video's etc.
These contemporary social artefacts are of significance to our era as they offer an insight into our social structure and how we communicate. Think of important information being shared by the hashtag #blacklivesmatter, but also the use of memes and emojis, all part of our global cultural identity. These contemporary artefacts are part of our global culture and are an extension of our identity and language. Digital artefacts transcend countries and languages, online and offline and show moments in time. I see the importance of these visual 'objects' and the importance of preserving this information. All these objects are connected, connect us and all part of our visual world.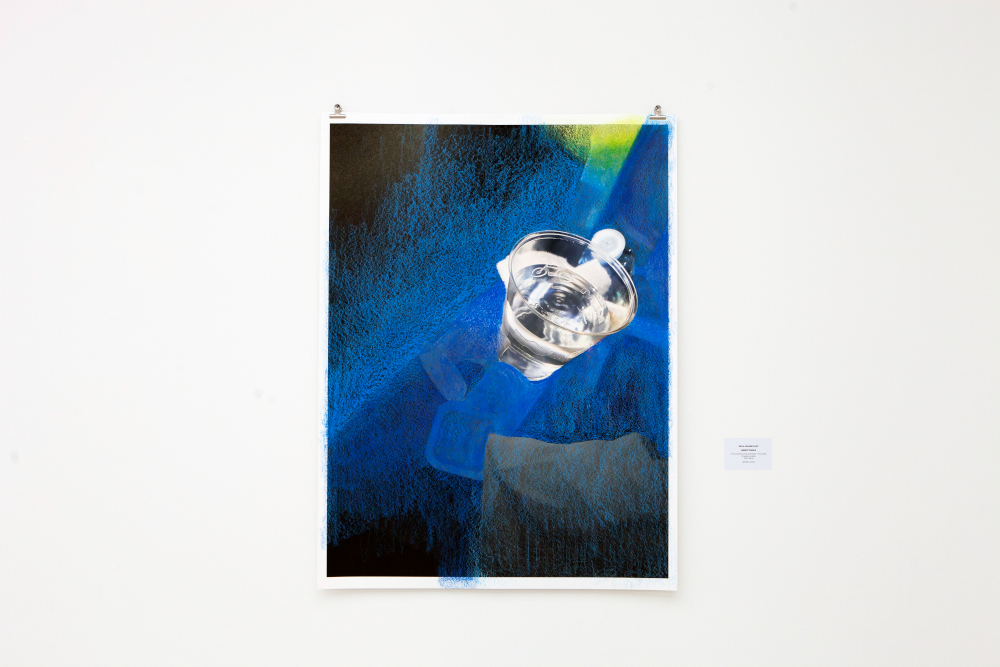 Your work often center your smartphone as both a medium and a subject matter. Can you talk a bit about its significance to you?
The smartphone has become such a normal object in our lives that we no longer think about how special the possibilities are that we unlock through it, the significant place it has in most of our lives and what a huge influence it has on our daily life. Most of us have one and this accessible tool offers countless possibilities. Due to current technology, we can all be makers. We are all makers and part of a visual community. There is no distinction anymore between the audience and the producer as we are both. Every individual can play a part of a greater thing, for instance in relation to movements as a community. Citizens have taken the role of journalist upon themselves and document moments of social and global value.
Through technology like the smartphone, we can literally extend and move our thoughts, knowledge and body through different times (zones) and spaces. Being disembodied, through contemporary technology like video (calling), text messaging etc. Traditions, language and objects can exist in multiple places at the same time. In this way, we can simultaneously be present in different parts of the world. In this way, our traditions, language and digital representations of objects are in a constant flux travelling to different places. How amazing is this!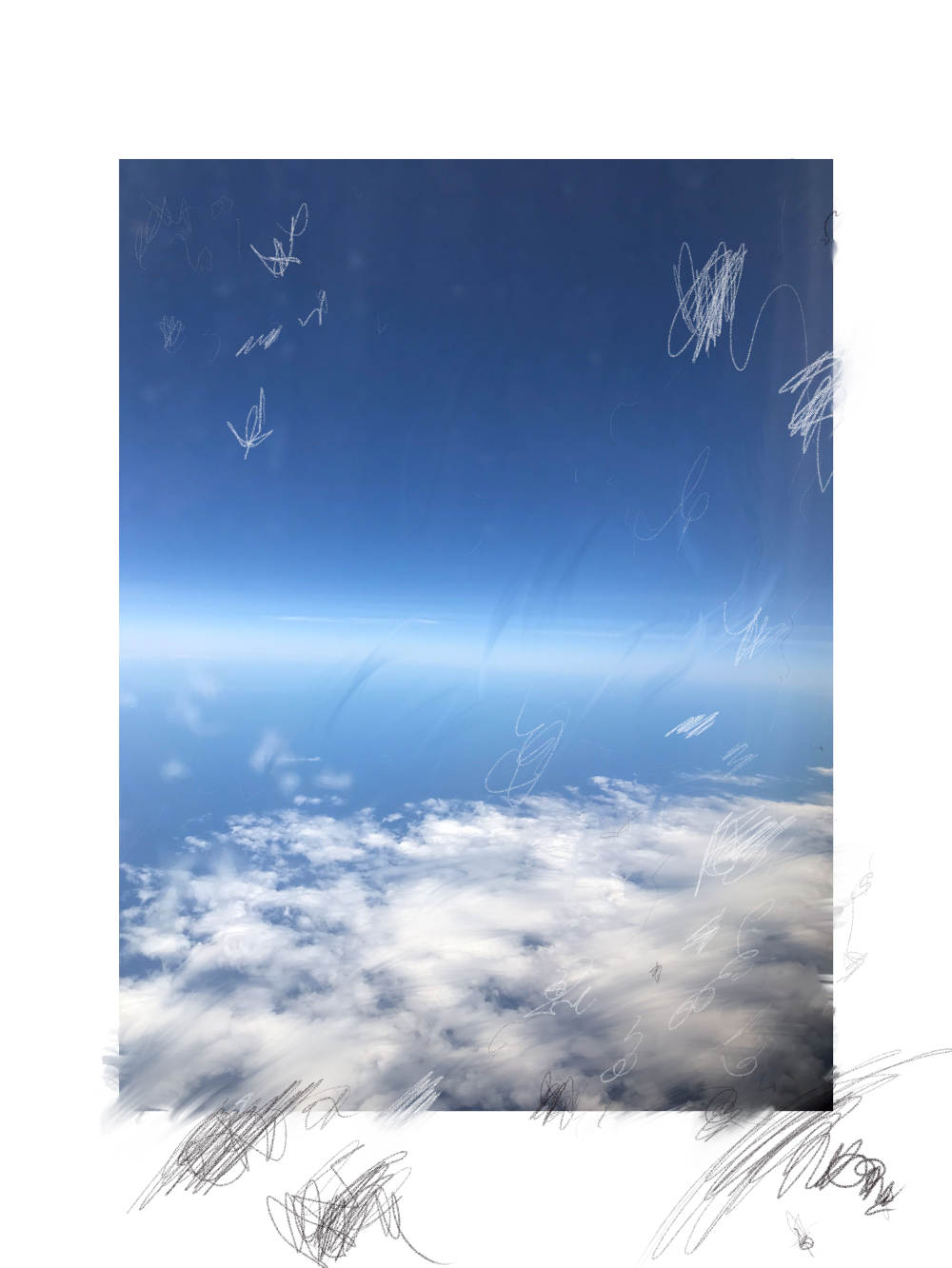 That observation about the collapse between audience and producer is a really interesting one. Do you feel like that is something that is also true with respect to your practice; cycling between viewer and creator at different stages?
That's really a complex question and interesting observation. Yes absolutely, this is such a fluid process. My photographs are never staged and are often taken spontaneously. In that sense, I capture moments without the intention to create something. Before anyone takes a picture they're probably always part of an audience and a viewer. Am I a creator when I take a photograph or do I become one when I'm working with the images? When I look at a photograph that just came fresh out of a printer I become a viewer again. This process goes on and on in my work.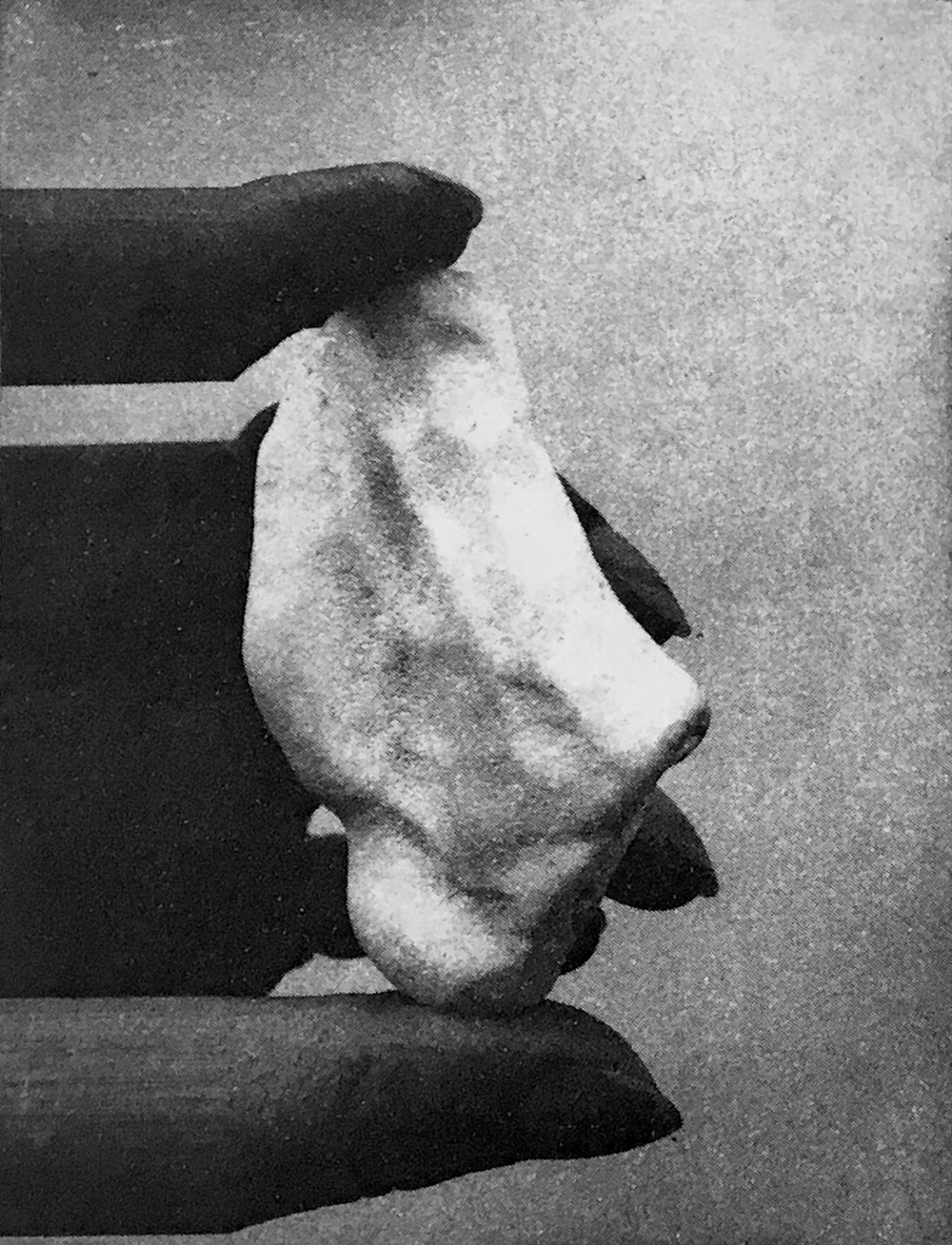 You mention that these moments often are everyday in nature. Do you feel like there is a desire to try and make the audience think more closely about our more commonplace experiences?
Definitely. ​We live in a world where the news is dominated by everything that separates us from each other: race, class, gender and country borders and more. But what connects us as humans is a common need/necessity for: oxygen, water, food and the desire to make meaningful connections. This is also one of the reasons for my interest and frequent use of nature. Nature is present on different continents and connects us all over the world. The building blocks of life are visible with the help of the internet, television, video calling or from my own window. Nature functions as a reminder of our common existence.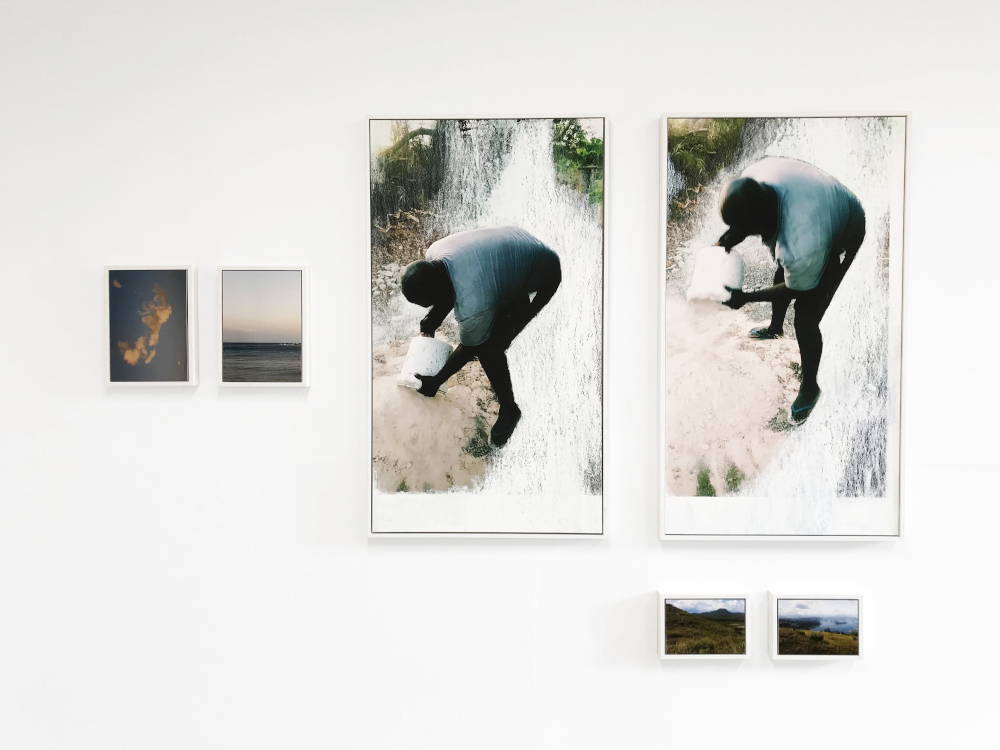 A personal quality resonates through your works; what does the process look like when you're selecting imagery from your own archives?
The process to select imagery goes very natural and the way my archive grows too. Nine out of ten times I do not take a photograph, make a video or record a sound with the intention to use it later in a piece of work. Usually, it's me being conscious of a certain moment and feeling the need to capture it. The selection procedure comes about in the same way; intuition. When I need inspiration for a new piece of work I go through my own archive and select videos/images that spark my interest, mainly in subject, colour, composition etc. But also when I find similarities in images that I've taken over a course of time and see the potential to turn it into a series of work like the ongoing series of my grandmother named ​'The Sound of Reverie'​.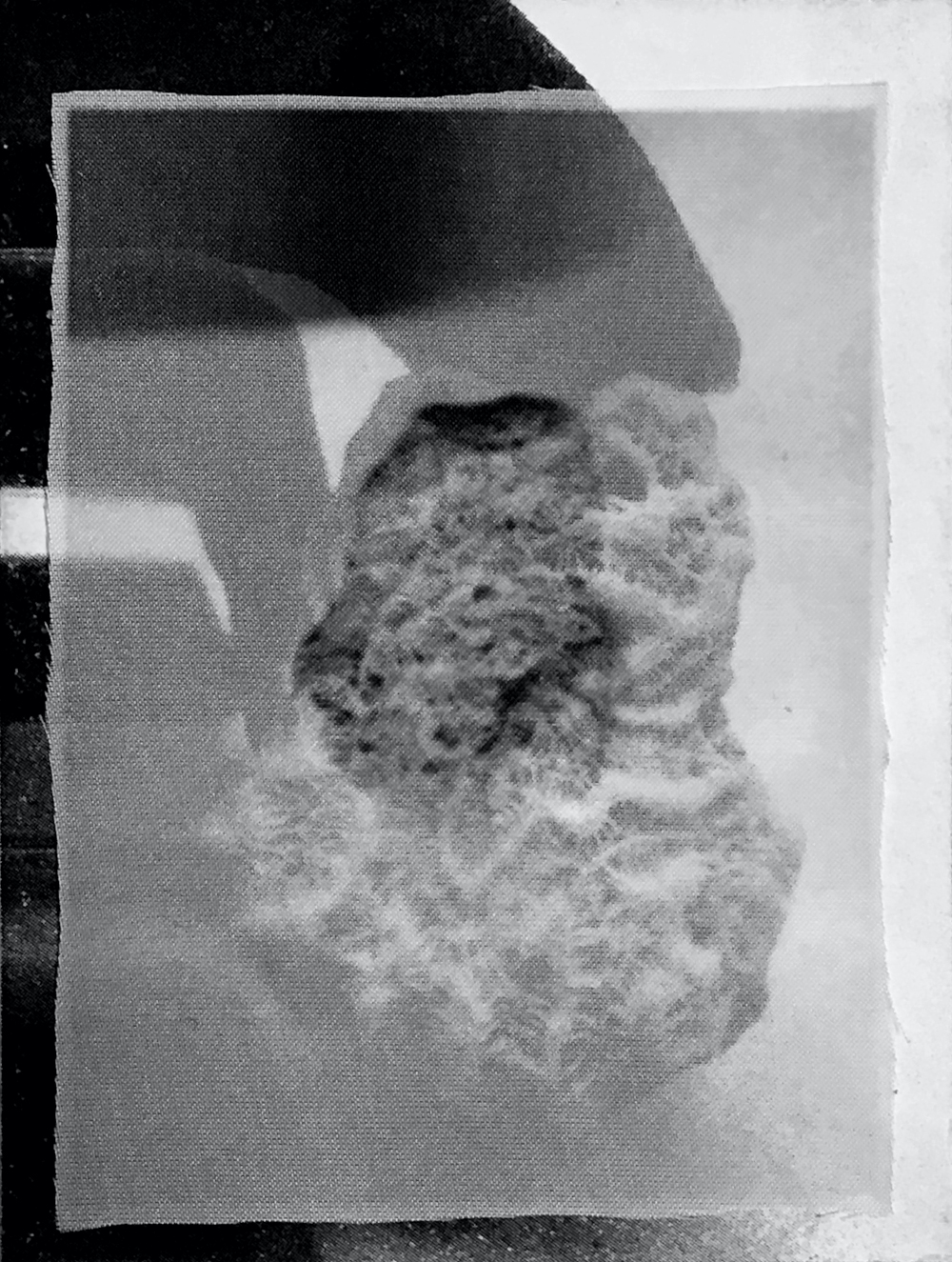 Combining imagery with oil pastels is a technique you favour, adding layers and texture to your pieces. How did you arrive at this approach in your practice?
This body of work really started out of a necessity to physically connect my thoughts and body with the process of making work. In this way, I could be thinking through making. The first few large works on paper were actually blown up versions of small sketches I had in my dummy. A lot of my work is made or starts out in a seated position as I usually search for inspiration in archives. The same goes for drawing and working in moving image.
For me, it's the physical action of mark-making to arrive at these works. Making it means I need to use my full body. It's mark-making and using the body while doing so. It's a meditative process that consists of repetition, mimicking the pixelated image in an analogue way. It's the rubbing of the pastels on the paper, layer upon layer and being in close contact with a surface that has the same length as myself. I like the idea of experiencing work with the full length of the body. It turns 'viewing' into an experience.
Focussing on the interaction between the materials; the image underneath, the layers of pastel and the material the photographs are printed on. This layering is not to cover up but to show the complex history, experiences, time and memories that make up the present as a marker of the simultaneous. With this technique, I want to challenge the idea of painting and the reproductive image. I see the photographs taken with my iPhone as a base layer of paint and with my hand, I paint the rest of the piece. I layer the colours like paint on top of an image. The image underneath is important in colour and composition. All these things come together to become the final piece. I think about the smell, colour of the light, what I felt in that moment.
The photographs that I take and pick out are of ordinary moments. With the final piece, I question where they are and when they are taken. I pick out these moments that for a lot of people are not of significance and by taking the photograph and working into it I can turn those moments into something intimate and valuable.
These fragile moments are 'stored' on a material that is also very fragile: paper. I take the photographs with my iPhone, this also goes for the photographs I find in my family's archives instead of scanning them in. I blow these photographs up and print them out on fine art paper on a large scale. This in turn creates digital artifacting. I then physically work back into the image. By viewing the work on screens, the stretched image will turn into a compressed or thumbnail iteration of itself. Creating different visual experiences when looking at a screen, or in real life.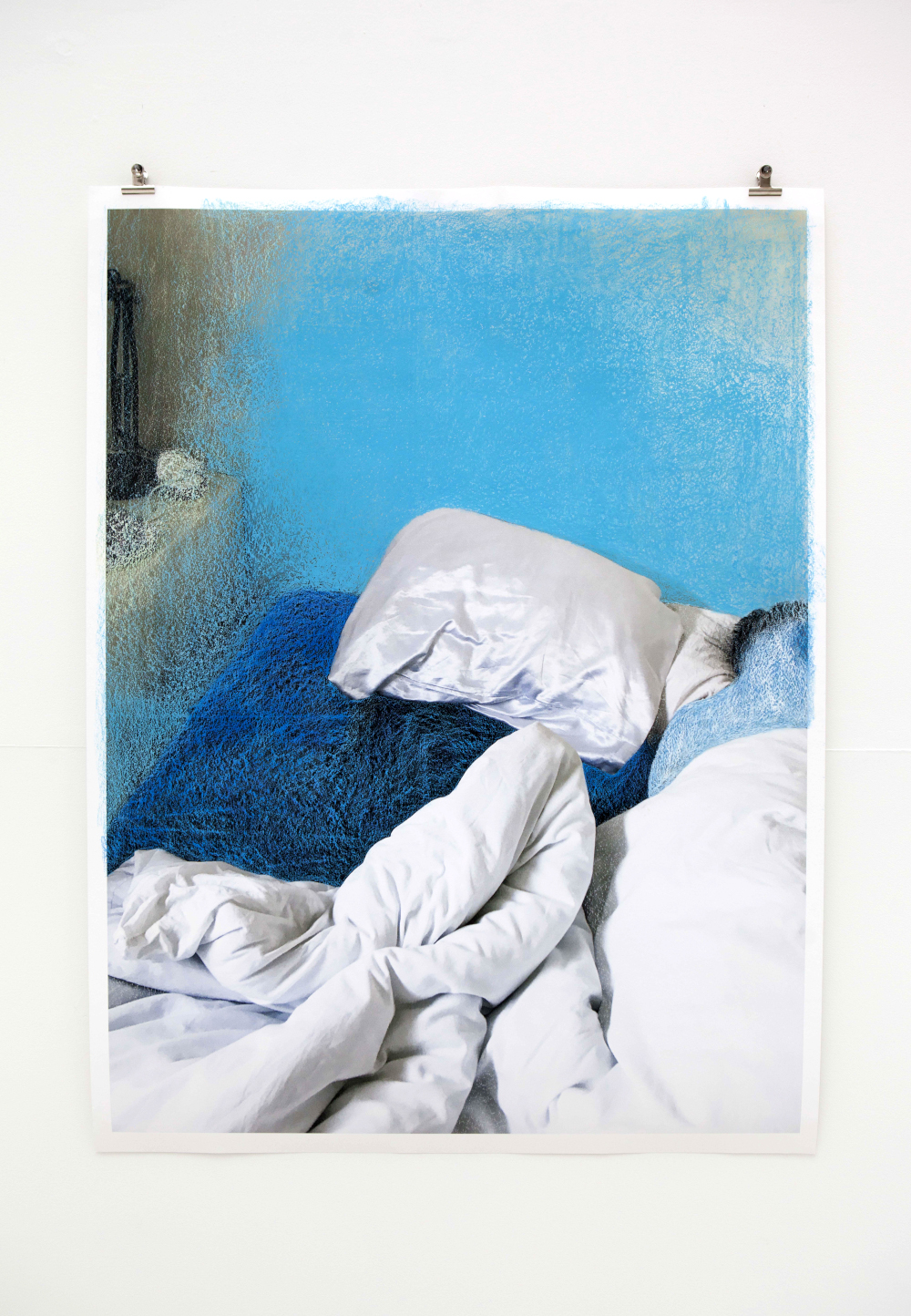 You recently curated two RCA graduate exhibitions, one at Kristin Hjellegjerde Gallery and one at Saatchi Gallery. What was your experience like doing those shows?
This was such an amazing experience! In a time where it felt like everything I've worked so hard for seemed to be falling apart, I got a call from Kristin Hjellegjerde Gallery with the offer to fully curate an external degree show for a group of RCA graduates at their beautiful London Bridge location. After Kristin Hjellegjerde Gallery announced this on their social media channels, Saatchi Gallery liked the idea so much they decided to also offer their space to recent graduates from the leading art schools in London. Now I had the chance to offer more RCA artists the chance to exhibit their work in a physical gallery space.
I scouted online, remembered works I saw the year before during the WIP show at the RCA and held an Open Call to give as many people the opportunity to be part of a physical show. If I could I would have loved to have given every single graduate the chance to exhibit their work in a physical show. Everyone worked so hard for 2 years and deserved it.
I've always been interested in collage making and this is also the way I approached curating these two shows. The shows were a mixture of talented artists with every individual artist having a very distinctive practice. With these shows, I also wanted to show the cross-disciplinary practices within this group of people; Sculpture graduates who write or draw. Painters that work with textile or innovative ways of printmaking. As such, the selected artworks were richly diverse to create complex, multilayered expressions of collective and personal realities.
I spent my time between London and Amsterdam and at the time when I was preparing for these shows I had to do this from a distance and without seeing the spaces in real life, so it was me and my laptop for months from my home in Amsterdam. This was challenging but getting the chance to share this great opportunity with my peers has been a great motivator and a really valuable experience to be a part of.
You can visit Mandy's website at https://mandyfranca.com/ and follow her Instagram account at https://www.instagram.com/mandy__franca/.
Published 19 Jan 2021