Reflections - Volume Two
Amba Sayal-Bennett - Half Duplex (2020)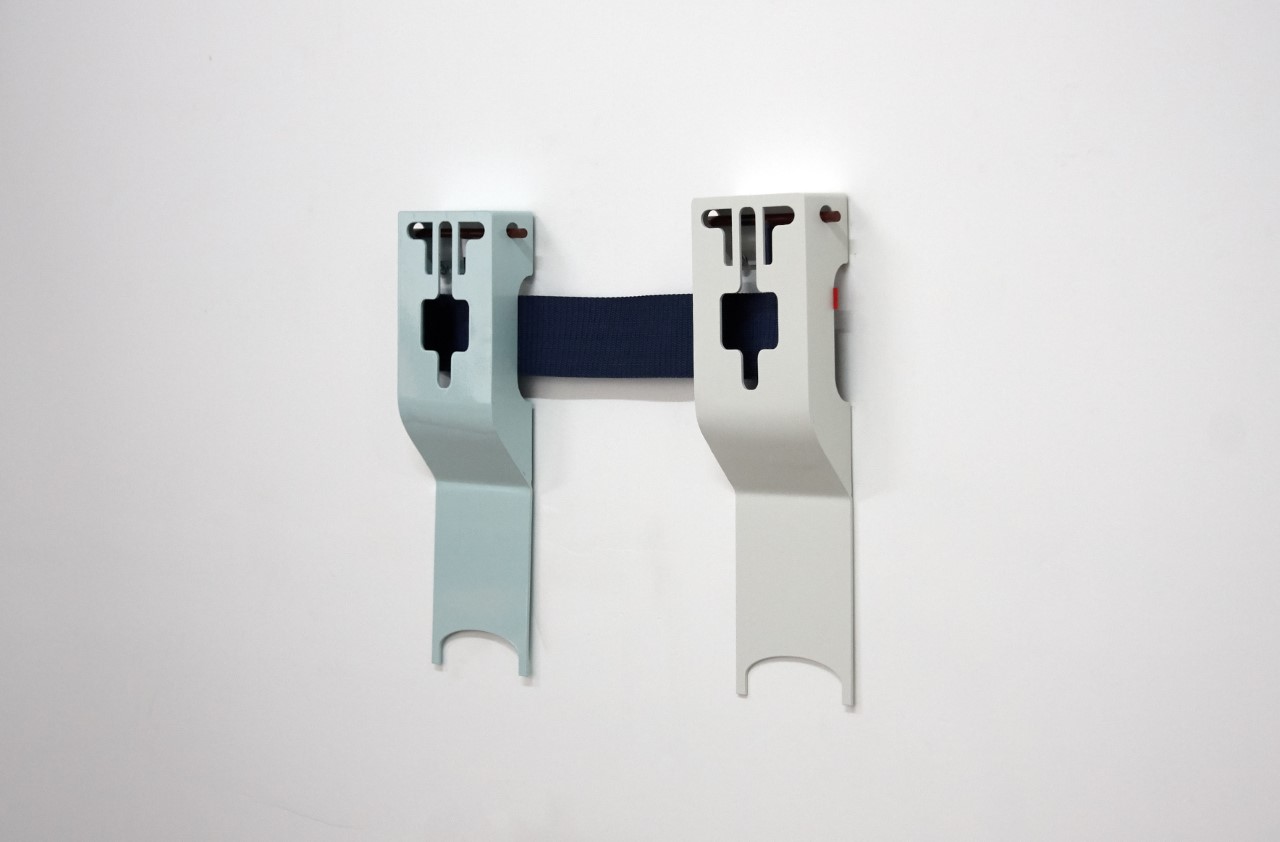 "Metal has a strong relation to paper, as a sheet material it bends and folds and through welding or slotting it can move between two and three dimensions almost instantaneously. 'Half-Duplex' is made from powder coated mild steel. Like a card maquette, or a prototype that could be unfolded again, there is an implied flatness to the work that connects it to processes of testing and modelling. This piece was exhibited as part of my solo show 'A Mechanised Thought' at indigo+madder at the end of last year. This body of work was informed by my time spent at CERN where I was struck by the vast subterranean architecture used to find the Higgs boson, a particle that was believed to exist some time before its discovery. The repetitive experiments used in its detection felt ritualistic and the material infrastructure of the Hadron Collider seemed to enact this belief. Throughout the exhibition, forms were often doubled. Repeatability in science is a means of verifying hypothesis. It can be an industrial and mechanised act, but it can also be meditative, ritualistic, and performative." - Amba Sayal-Bennett
Pao-Leng Kung - Passage (2020)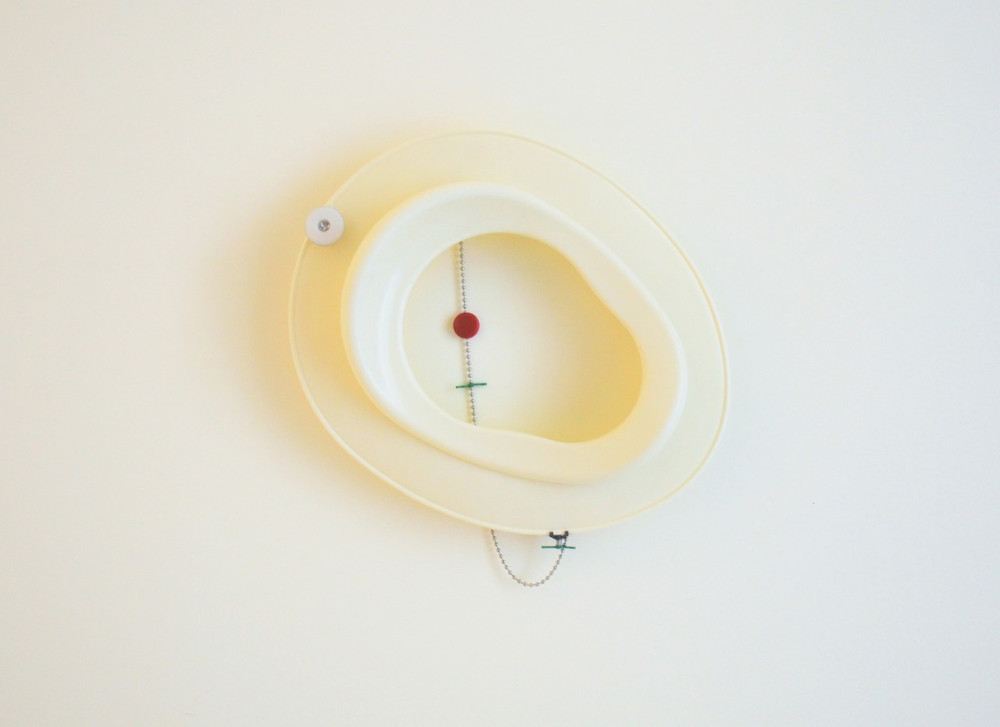 "Focus on different layers and on the study of space and domestic setting. Merging the concepts of house, container, and human's ideal lifestyle forms an approach to unfold subtle possibilities and blurs the boundary of space and art form.
/
Passage is created during the most uncertain time because of the pandemic. I suddenly put myself in a place that is familiar but also unfamiliar at the same time. This work is totally inspired by the object itself, the toddler toilet seat. I saw the object in a hypermarket in Taiwan, did not realise what it is at the first glance. It is magical that this object looks totally different in different angles and surroundings, for me, it is just a milky white object with soft curves.
/
Multiple shades of whiteness.
It is a painting in-between a pictorial and sculptural space. It is always open-ended and continuous.
The narrow pocket of spaces is embedded within the distance between plastics and the wall.
Seeking the experience that I can enter into the work of art from everywhere. (I am the space where I am.)" - Pao-Leng Kung
Sophie Mei Berkin - Ecdysis (2021)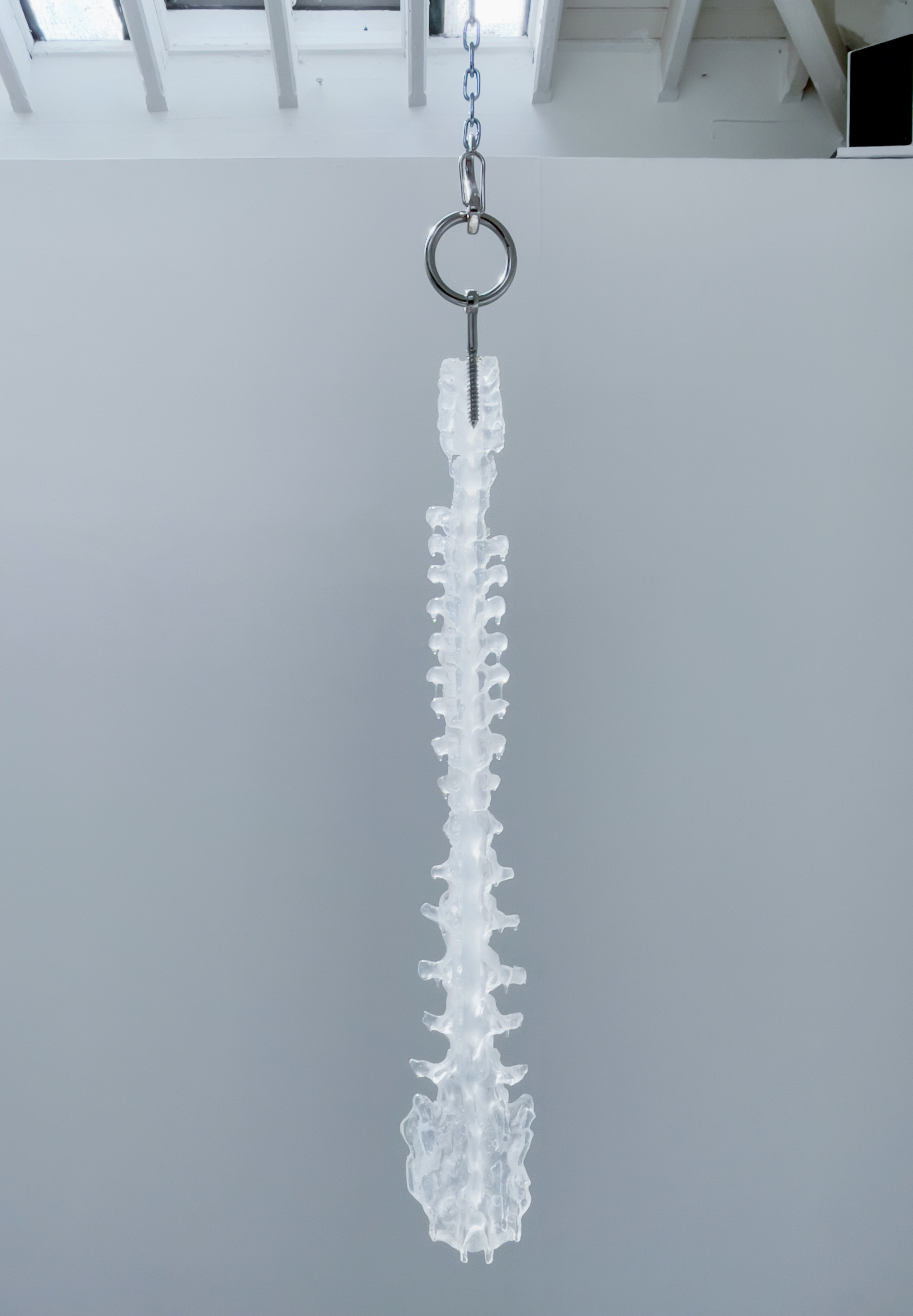 "Something about the incapability of one or the other, something about time and its effect on the body.
A subswell of desire pushed up against a membrane of spider silk- the imeshment of parts begins to pull away, slipping with molecular friction, split hairs like gooseflesh on cobwebs of kerosene.
The catalytic moment
Cracking open the self construct made of copper revealing oxidised topographies like unseen mould or the damp side of a rock
Then we were molten
Merging cells upon cells in metallic folding
Cutting through a vertical plane to reveal geologic layers of white chocolate curdling in films on the inside of our vascular system.
The hive mind of neurotransmitters shipwrecked in black bile, treacle and motor oil
My cataracts were found glazed in whale fat beaming into the deflated skin of the bedroom
Your statue remains iced in pink silicone, an inverted carcass sinking into seabed
Monuments masquerading as a markers of eternity but for the slow worm and flesh fly
Agents of dissolution feed on ripe irretrievable promises." - Sophie Mei
Hannah Rowan - Chrysalis (2021)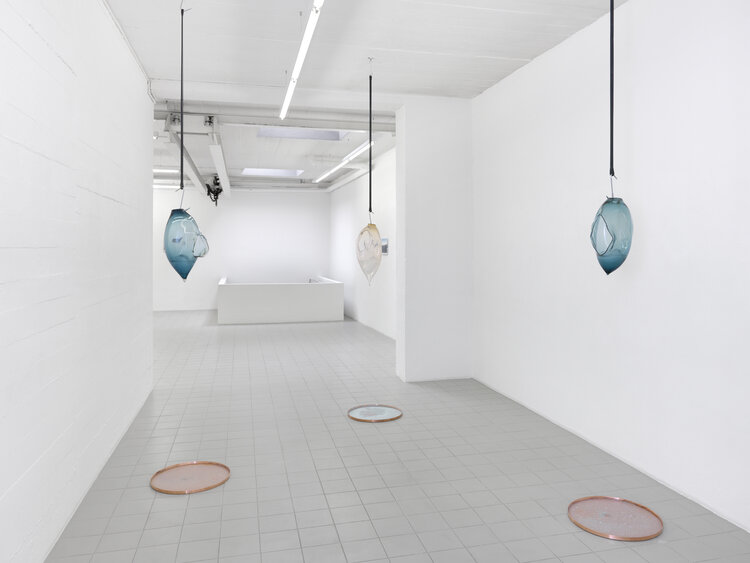 "The Chrysalis, a crystal dissolving into liquid, a being suspended between two forms, neither one nor the other, catalysed transformation. A living soup of metabolism, metamorphosis and mutualism.
Water, continually returning and becoming, dispersing, collecting, channelling, moving from intimate raindrops to vast oceans, holding ancient frozen knowledge, melting into tides of erosion and rebirth.
These suspended glass vessels cocoon melting ice. Inspired by porous aquatic creatures, glacial ice and the notion of the butterfly chrysalis as a moment of material transformation and becoming. Exploring the inverse properties of molten glass that cools to form an amorphous solid and ice that melts to form a liquid, these vessels embody flowing states of matter. As the ice melts, beads of condensation form on the surface of the glass and fall into a copper puddle; water saturates salt crystals and congeals, evaporates and begins the cycle anew
These works follow a period of research observing, filming and thinking about Butterfly Chrysalis in relation to transformation, emergence and becoming. The Chrysalis hangs at a dissolving threshold between the fluid and the crystal, a living soup of metabolism, metamorphosis and mutualism. The chrysalis demonstrates a symbiotic system of care and reciprocity with plants and signifies hope of emergence and healing." - Hannah Rowan
Qijun Li - The Knight (2021)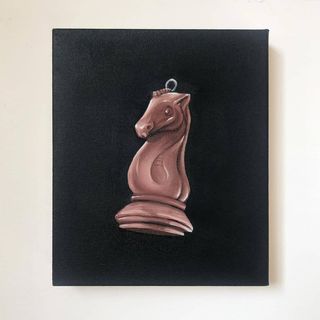 "'It's like my 6-year-old was doing lines of cocaine - and doing bigger and bigger hits' - Jessica Johnson, a mother whose son had spent $16,293.10 on in game purchases for Sonic Forces.
With the rise in popularity of NFTs in the past year, my mind has been intrigued over the sales of digital property, or should I say digital commodities, how did someone sell a JPEG for £69.3million? how has society progressed to this kind of conditioning.
Within my own understanding this phenomenon of the digital commodity seems to stem from video game culture. From grinding hours of gameplay to get 100 headshots for camos in Call of Duty, fishing in Runescape or finding hats in Team Fortress. The funny thing is these items have no effect in game, they don't change your stats or even give you an advantage, they are purely cosmetic… then why would one buy such a thing? To start to answer that question, think about all the times you bought something that you didn't need. Why did you buy it? " - Qijun Li
Holly Buckle - Out of the dark/ a fragile rope (2021)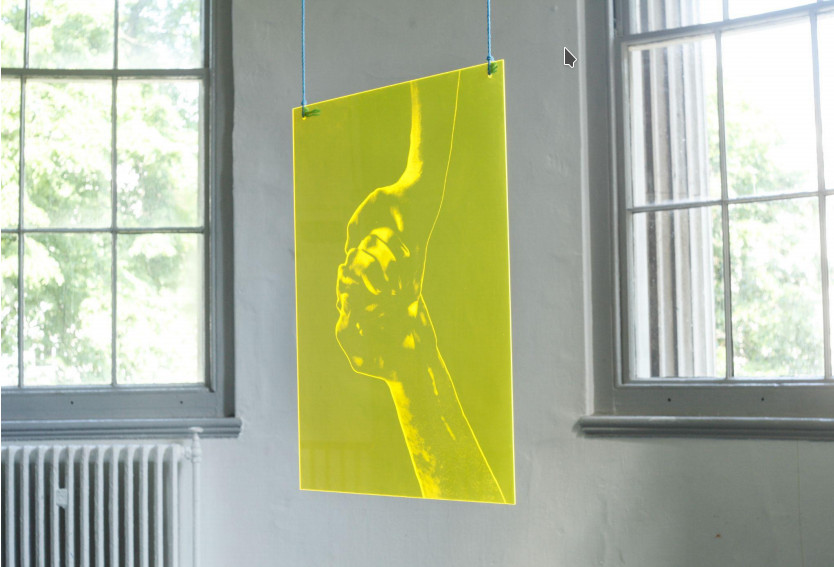 "A Queer utopia represents everyday work, it is working together, it is working together towards and pushing against, towards more livable lives.
This work was born out of collaboration, with the idea of mutual support to the front.
"Without the support of others, we could not exist to appear" - Judith Butler - Notes Toward a Performative Theory of Assembly
An image of one hand holding and supporting another hand, here engraved into self illuminating perspex in high visibility yellow. As one would move around the perspex visiting various perspectives, the detail of the engraved image reveals itself, appearing and disappearing almost Lenticular in effect.
To see others like yourself, to be met where you are, to have those spaces of support opened up, to feel that you are not alone, are lifelines.
"A lifeline, it can be a fragile rope torn and tattered by the harshness of weather, but it is enough, just enough, to bear your weight to pull you out, to help you survive a shattering experience"- Sara Ahmed - Living a Feminist Life
In the space, each speaker acts as a body in the room, people in conversation around the subject of space. The guests whom I collaborated with on this audio work are service users and team members at @lgbtiqoutside where I began working as a support worker during 2020.
These guests' identities have been made ambiguous for reasons of safeguarding, however they had full support and creative control of their voices, working to elevate their voices and share their experiences on their own terms." - Holly Buckle
Published 30 Sep 2021